Ariel  Sharon 1928-2014
Ariel (Arik) Sharon – an Israeli soldier and political leader. He was a hero to many and regarded as a villain by his enemies who feared him. Nevertheless his name has become synonymous with strong and powerful leadership throughout his life.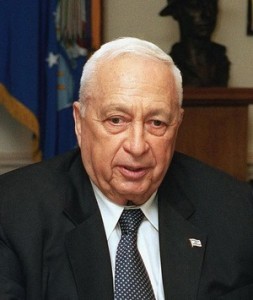 He was born in Kfar Malal on the 26th February 1928 in what was then the British Mandate of Palestine, the second child of Dvora and Shmuel Sheineman who had immigrated to Palestine from Lithuania.
At the age of 14 he joined the Haganah and by the time he was 20 Ariel was made commander of an infantry company during the War of Independence. His army career was illustrious; he played an active part in all of Israel's wars attaining the rank of Major General in 1967.  During both the 6 Day War and the Yom Kippur war in 1973 he played the part of a supreme military strategist. It was Ariel Sharon who, as commander of an armored division, led the Suez Canal crossing thus securing an Israeli victory and which eventually led to the Peace Treaty with Egypt.
In 1973 Ariel Sharon played an important role in the formation of the Likud Party and in 1974 was elected for the first time to the Knesset (Israel's Parliament). However he resigned his seat a year later to become Yitzhak Rabin's security advisor.
In 1977 he was again elected to the Knesset serving as Minister of Agriculture under the leadership of Menachem Begin. Sharon was very active in the sphere of International Relations, he succeeded in a number of endeavors. He managed to effect the first strategic cooperation agreement with the United States, and renewing diplomatic relations with the African Countries who had broken these off after the Yom Kippur War.
Arik Sharon extended defense ties with a number of other nations and succeeded in bringing thousands of Ethiopian Jews to Israel through Sudan.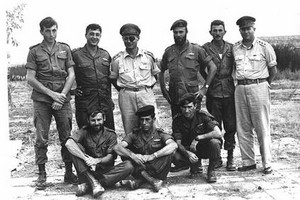 He was appointed Defense Minister in 1981 and in 1982 during the 1st War in Lebanon was instrumental in the destruction of the terrorist infrastructure there. At this time Sharon was found to be indirectly responsible for the massacre of Palestinians by Christian Phalange Militia, in the Refugee Camps of Sabra and Shatila. This resulted in his resignation as Minister of Defense.
Ariel Sharon became Israel's 11th Prime Minister in February 2001. On the 4th January 2006, Ariel Sharon suffered a massive stroke he slipped into a coma and since then has remained in a vegetative state with practically no chance of recovery.
Sharon was married and widowed twice and has two sons, Omri and Gilad.